1. Minimum order quantity is 24pcs per each design/height, if I need lots of differ design and few pieces, what should I do?
There is always has stock crowns available, if interested in or want to check it before your purchasing , please contact directly to ask for list of stock pageant crowns.

2. Which payment method accepted?
Paypal (buyer afford 4% transfer fees if picked in this way)
Western Union
Moneygram
Bank Transfer

3. How about the shipment?
DHL(this is the normal method used)
UPS(this way more expensive than DHL, if need this way, please notice in advance)
Fedex(depends on your request)
EMS(depends on your request)

4. How long for buyer to receive the parcel after payment arranged?
As usual, it needs 10-20days to run production which according to quantity and needs 4-7working days during shipment. So total needs about 15-27days for buyer to receive the parcel after payment arranged and confirmed in my end.

5.If I buy stock crowns, how long to receive it?
As stock crowns, it could be shipped asap after buyer payment confirmed, it needs about 4-7working day reach to buyer's hand.

6. There is one design of pageant crown on your site it shows the height is 6inch, if needs the height on 7inch,8inch,9inch or 10inch, could it be?
Yes, this is available. Send inquiry or mail directly to notice your request details that will be fine. I will quote my best price for your reference.

7.I am the director of the pageant, the theme of my pageant is very different and specially to others and I plan to make my own custom crown, is this possible?
Yes, custom made crowns welcomed and accepted. The only things you need to do is send pic/sample to me. Mold pic will confirmed with you before production.

8. As we know, the crowns are difficult to package. How about your package?
Package details which I used
1) each pieces packed into single polybag, 4pcs or 6pcs packed into soft-bag
2) then all crowns put into thick outer carton.
3) on the outer cartons, we will put "FRAGILE" sticker for reminder

As details, please check pic below: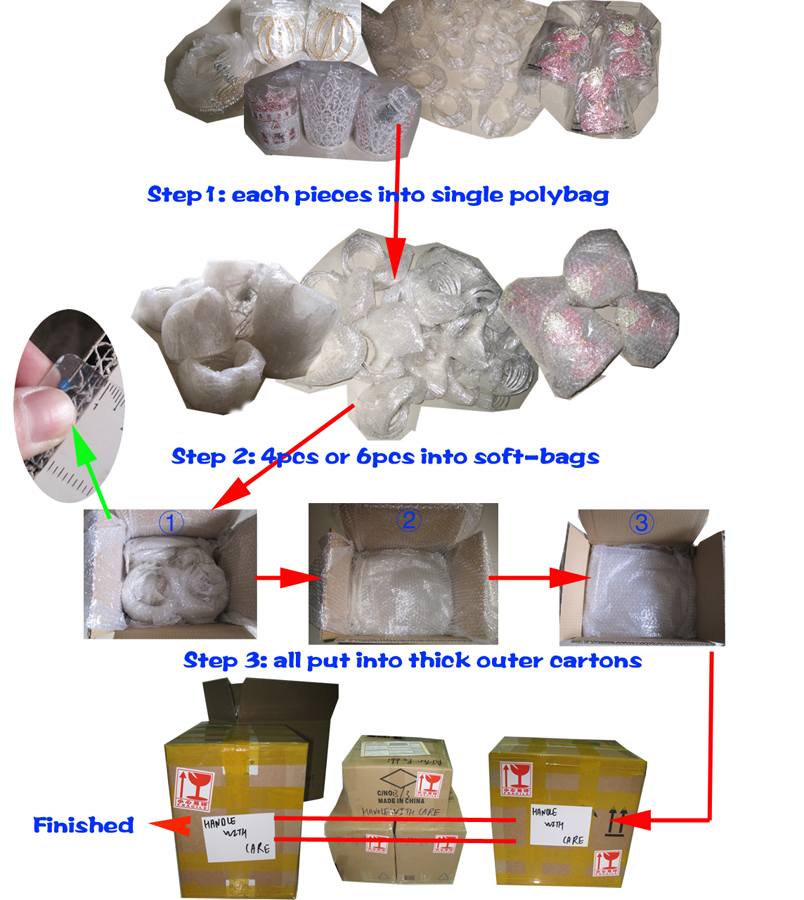 9. When parcel recived, there was 1 or 2pcs broken, what should I do?
When you met this problem, please keep claim and get photos of the crowns, try to call for DHL/UPS to let them know. And same time, please send back the pic for my refer. I will try my best to solve this problems

10.The crowns broken in my end, what should I do??
When you met this problems, please check it whether the crowns could fixed or not in your end, if it could be, please try to fix it, if not, please let me know.

11.Why the crowns broken in my end?
The parcel which shipped by DHL/UPS. As we all know, there will be "rough handing" during shipment. As a seller there is something I could not control. Please understand this inconvenience and please sure my guys and I will try my best to solve everything problems.

12. Did you send broken crowns to me??
NO! NO! NO!! I never send broken crowns to buyer. Every crowns checked many hands before dispatching. I NEVER NEVER SEND BROKEN CROWNS!!!

I am not the seller who only run one-time deals, I did not dig a hole which in front of me and then I drop into the hole, this is stupid!!!! STUPID!!!!

13.I bought crowns from other supplier too, I think their package way are better than yours.
If buyer has any good idea or suggestion on package, please don't hesitate to let me know, OR any comments on my package, please feel freely to let me know. I am very very very appreciate to receiving your comments and suggestions!!!

If has any questions/doubts, please feel freely to contact!!! Welcomed and appreciate!!